I hope everyone had a great holiday weekend!  I know I did…got some great workouts in, spent some time with good friends, got a TON of stuff done around the house and got to spend lots of quality time with my husband and kids.  But, as usual, the weekend flew by too fast!  
I'm back for my second WIAW hosted by Peas and Crayons.  I just love this idea and am happy to be a part of the party!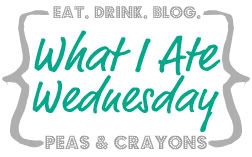 Here's my eats for today…
Meal 1 – Cinnamon Ezekiel toast (with coconut oil, cinnamon and Truvia) with 3 egg whites scrambled with fresh salsa.
Meal 2 – 2 hard boiled eggs (whites only), 1/2 cup of nonfat cottage cheese and 1 ounce of almonds.  However, I decided to not eat the almonds because I'm going to take the day off so needed to cut a bit so I didn't eat too many calories…I just forgot to take another pic without them.  Duh.
Meal 3 – 5 oz. baked tilapia, steamed broccoli and a cup of fresh spinach with fresh salsa on top.
Meal 4 – Clean eggplant parmesan (I'm going to post this recipe this week) with 1 cup spaghetti squash.
Meal 5 – 5 oz. shredded chicken breast with fresh salsa (do you see a pattern here?) and fresh lime juice.  I was planning on having 1/2 an avocado on this like I usually do, but again, needed to cut it for today.
Meal 6 – Casein pudding.  Ohh. Emm. Gee.  This has been amazing lately.  I found the PERFECT size whisk and it has been turning out so amazing and smooth and lump-free…I've been in heaven!  Plus, my casein is just about gone, so I'm kind of excited to try a different flavor!  Plus, I finally remembered to take a pic…I just sprinkled the PB2 on top this time.  Since I'm almost out of that as well I've started to ration!  Plus, I really need to find different places to take these pics…even I'm getting sick of them all looking the same!  Okay.  I'm done with the pluses.