Last week I did a post about what I had eaten for an entire day.  Then I made a new blogger pal who turned me onto her "baby", WIAW (What I Ate Wednesday).  She has created an online community of bloggers and other food enthusiasts who blog each Wednesday detailing their eats for the day!  I'm excited to join this group and hope to be able to post each Wednesday!  Let me know if you're into it or not and if you haven't checked out Peas and Crayons yet…get on it!  Here we go…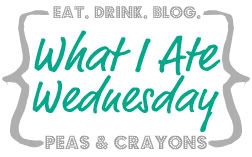 For the 20th time now, I eat (usually) 6 meals per day.  Yes, I only have four pictured, but that is because I'm an idiot and completely forgot to take a pic of 5 and 6.  They were kind of boring anyway, but I'll try to remember next week…I'll need to be graded on a curve.
Meal 1 – 1 slice of cinnamon toast with Ezekiel Bread, cinnamon and Truvia (I would seriously eat this for every single meal if I could…I've LOVED cinnamon toast since I was little) and 4 egg whites scrambled with fresh salsa.
Meal 2 – 2 hard boiled eggs, whites only.  And 1 serving (2 squares) of Jamie Eason's Lemon Protein Bars.  And I added 1 sweet cherry per bar before I baked, it was a nice little bonus!  I also use a few packets of True Lemon in this recipe, instead of the Crystal Light; however, I only had one on hand so I added the True Raspberry Lemonade also, it added a tiny bit of extra flavor.  
Meal 3 – HUGE (couldn't even finish it) salad with Little B's Clean Buffalo Chicken.  I really only like this shredded.  But that's just how I prefer my chicken because I don't really like thick meat (yes, I'm well aware of how that just sounded lol).  With a tomato, red onion, mixed greens and 1/2 an avocado.  This is my new favorite lunch!
Meal 4 – Stuffed pepper and 1 cup of spaghetti squash.  These were seriously so freaking GOOD!!  I even made my coworker taste just to make sure I wasn't crazy before I posted this recipe.  And to think they were actually an accident.  I was annoyed at my husband for not making our weekly turkey chili (like he promised he would) and so I started to make it at 9:30 pm (and I was exhausted) and then I saw the peppers in fridge and remembered that Fit Life Happy Wife had recently posted a pic of her stuffed peppers so I threw a bunch of crap in a pot, stuffed them up and YUMMM!  I'm definitely making another batch this weekend.
Meal 5 – 4 more egg whites scrambled with salsa again (not pictured).
Meal 6 – Casein & PB2 pudding. (I eat this every night, but never took a pic…woops).
Here's how I made the Stuffed Peppers:


Ingredients:
4 whole bell peppers
1 pack ground turkey (99/1 if you can find it)
3 tbsp minced onion (or chopped), you can use as much as you like, I just like a lot!
2 tbsp Bragg's Nutritional Yeast
1 tbsp Bragg's Liquid Amino Acid
2 tsp onion powder
2 tsp garlic powder
2 tbsp yellow mustard
1/8 tsp sea salt
1/4 tsp black pepper


(you can adjust the spices to your preference, of course)


Directions:
I cleaned the peppers and took out all the seeds and boiled them for about 2-4 min then put them to the side.  Then I browned the turkey meat most of the way through then added all the rest of ingredients (except peppers).  Then I filled the peppers and arranged them in a baking dish with about 2 inches of water in the bottom and baked them at 400F for 35 mins.  Just keep an eye on them depending on how your oven is.  I could see the very tops starting to get blackened so I took them out.  


I really enjoyed them, I also think I will make the meat again like this to have with brown rice or quinoa and other veggies!